Happy Mid-Autumn Festival
Share
Issue Time

2018/09/24
The festival celebrates three fundamental concepts that are closely connected:
Gathering, such as family and friends coming together, or harvesting crops for the festival. It's said the moon is the brightest and roundest on this day which means family reunion. And this is the main reason why people think mid-autumn is important.
Thanksgiving, to give thanks for the harvest, or for harmonious unions
Praying (asking for conceptual or material satisfaction), such as for babies, a spouse, beauty, longevity, or for a good future
Traditions and myths surrounding the festival are formed around these concepts, although traditions have changed over time due to changes in technology, science, economy, culture, and religion. It's about well being together.
The Chinese have celebrated the harvest during the autumn full moon since the Shang dynasty (c. 1600–1046 BCE). Morris Berkowitz, who studied the Hakka people during the 1960s, theorizes that the harvest celebration originally began with worshiping mountain deities after the harvest was completed. For the Baiyue peoples, the harvest time commemorated the dragon who brought rain for the crops. The celebration as a festival only started to gain popularity during the early Tang dynasty (618–907 CE).One legend explains that Emperor Xuanzong of Tang started to hold formal celebrations in his palace after having explored the Moon-Palace. The term mid-autumn first appeared in Rites of Zhou, a written collection of rituals of the Western Zhou dynasty (1046–771 BCE).
Empress Dowager Cixi (late 19th century) enjoyed celebrating Mid-Autumn Festival so much that she would spend the period between the thirteenth and seventeenth day of the eighth month staging elaborate rituals.
The festival was a time to enjoy the successful reaping of rice and wheat with food offerings made in honor of the moon. Today, it is still an occasion for outdoor reunions among friends and relatives to eat mooncakes and watch the moon.

A notable part of celebrating the holiday is the carrying of brightly lit lanterns, lighting lanterns on towers, or floating sky lanterns. Another tradition involving lanterns is to write riddles on them and have other people try to guess the answers
It is difficult to discern the original purpose of lanterns in connection to the festival, but it is certain that lanterns were not used in conjunction with moon-worship prior to the Tang dynasty.Traditionally, the lantern has been used to symbolize fertility, and functioned mainly as a toy and decoration. But today the lantern has come to symbolize the festival itself.In the old days, lanterns were made in the image of natural things, myths, and local cultures. Over time, a greater variety of lanterns could be found as local cultures beca

me influenced by their neighbors.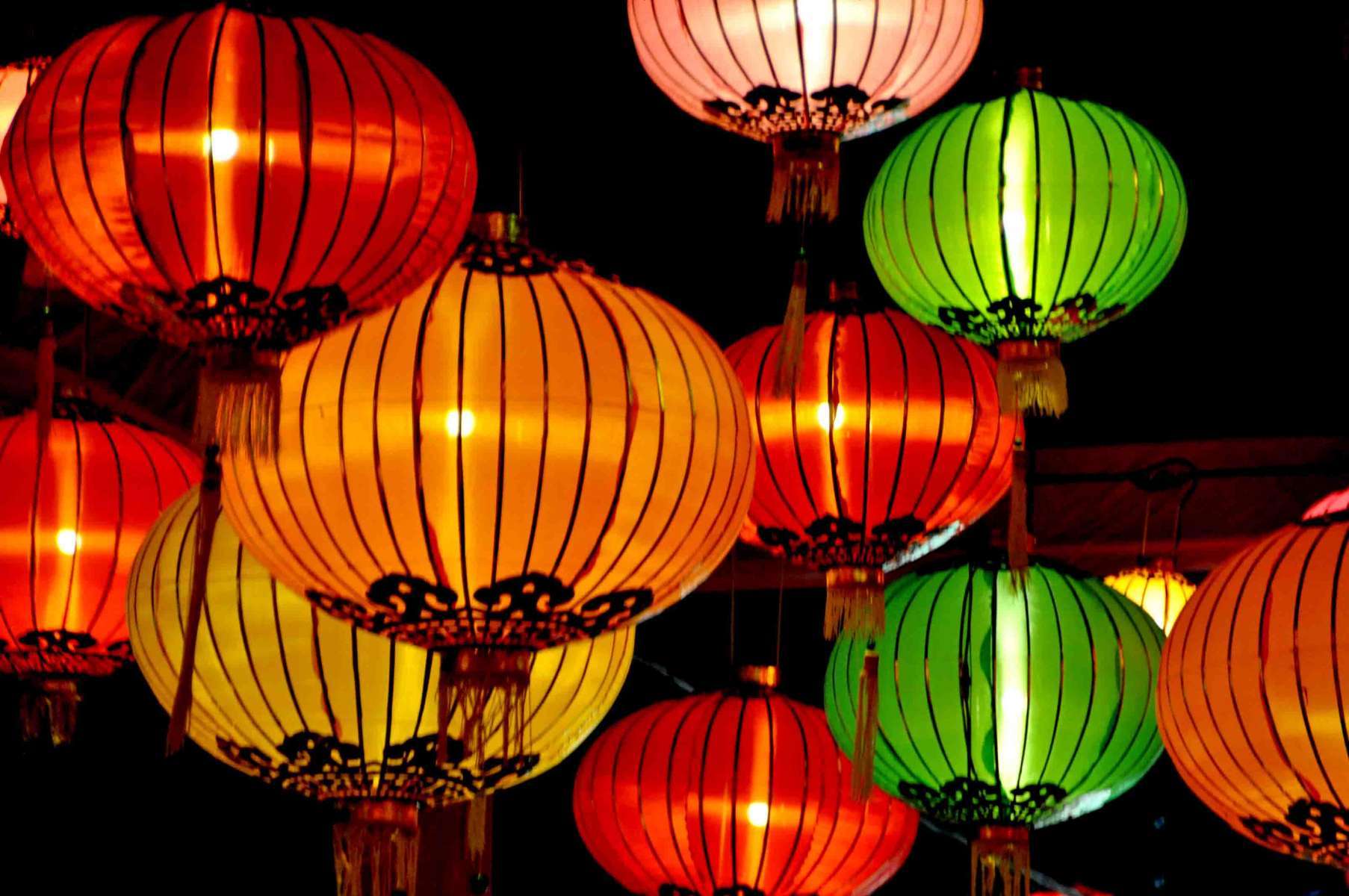 Making and sharing mooncakes is one of the hallmark traditions of this festival. In Chinese culture, a round shape symbolizes completeness and reunion. Thus, the sharing and eating of round mooncakes among family members during the week of the festival signifies the completeness and unity of families.In some areas of China, there is a tradition of making mooncakes during the night of the Mid-Autumn Festival.The senior person in that household would cut the mooncakes into pieces and distribute them to each family member, signifying family reunion. In modern times, making mooncakes at home has given way to the more popular custom of giving mooncakes to family members, although the meaning of maintaining familial unity remains。